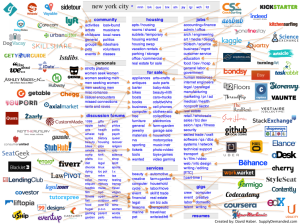 Everyone knows that Amazon.com and ebay are two of the biggest online marketplaces, and if you have a physical products business, chances are you are selling on one of these.
…but because these online marketplaces are so BIG, you have probably not even considered that there are tons of other biggish online marketplaces as well to list your products!
So what better way to increase your overall sales, and diversify your traffic channels then to list your products on some of the other online marketplaces as well!
Simply choose some of the sites below, that are best geared for your type of product (do searches), and then list your products. If you have an amazon business, you can easily manually fullfill your orders through amazon FBA, if you sell on these marketplaces. Or some of your suppliers might even be able to ship directly to them.
Listing on these marketplaces are easy, quick and in many cases FREE, so take advantage of these now, and let me know your results!
Check out these 20 online marketplaces that you can get your product listed on today in addition to Amazon and eBay:
(credit to Rochell from http://quickbooks.intuit.com for this list.)
Once you have picked the appropriate marketplaces to list your products, don't forget to submit your products to Google so that they can be listed in the search tool's Shopping results. These marketplaces will greatly increase your product's opportunity for exposure and will send you well on your way to selling success.
And REMEMBER – if you need some real guidance and/or coaching or mentorship to grow your physical products business into a multi million dollar business quickly, I suggest check out my consulting and coaching services here, as I would be happy to help you succeed!