Maybe you're just starting out in online marketing, or you've been at it for a while – and optimizing for mobile doesn't seem important. Oh yeah, you know about it, and after all, you have a smart phone, too.
But still, you're mistaken to think your business is too small to bother with it.
Check out these stats from Pew Research Internet Project focusing on mobile technology.
January 2014:
90% of American adults have a cell phone
58% of American adults have a smartphone
32% of American adults own an e-reader
42% of American adults own a tablet computer
As of over a year ago, May 2013, a whopping 63% of adult cell phone owners used their phones to access the internet.
Over 50% of Americans use their phones to check email.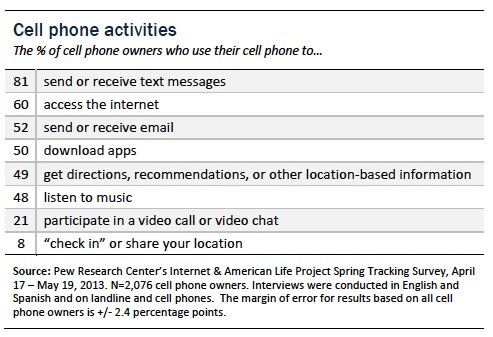 All right, in the event you're pretty new to all this, and why it matters, the marketing emails you send and perhaps assume will be read on a PC or laptop will appear devastatingly horrid on a smartphone.
What to do? Easy, optimize your emails for mobile, and then do something about your business site if it's not mobile friendly. OK, let's move forward on this.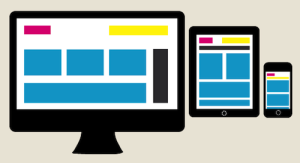 1. Go responsive
Get a responsive template for your emails. Chances are decent that you've been using a template provided with courtesy from your email service provider? That's cool but make sure you're using a responsive design. But what's responsive?
A responsive email template is coded to automatically render properly on the screen that's being used to view it. It's responsive to the user's screen size. Then at least you have that common, but huge, problem solved. Your emails will fit and look properly no matter if it's viewed on a PC, smart phone, tablet or whatever.
2. Be image conscious
No, not your self-image, either. With mobile, you must always remember that large files can play havoc with users and seriously make them crazy. Large files take longer to load especially if a Wi-Fi connection is being used.
Always keep the lowest common denominator in mind.
Fewer images and small file sizes. Never use bitmap images, either, because while they look great, resolution-wise; they're awfully large in file size.
3. Optimize email copy
Copy format is much more crucial for mobile. So much shorter paragraphs and sentences. Important points and relevant information should be early in the copy.
You know people have become used to scanning online for years. Mobile "reading" is hyperactive scanning at its worst. So make every single word count and think 0 fat. Also, be judicious with white space and avoid putting links too close to each other.
4. Special attention to display copy
Display copy is my little invention referring to the subject line, "from" field and preheader text which is unique to mobile emails. Let's talk in terms of real estate…
You have precious real estate to work with, essentially trying to capture – seize attention. So your copy in these fields really needs to be sharp. And you also have to ensure you don't violate character limits.
5. Buttons for links
You can find little applications for making buttons, so that should not be an issue. You'll have a call to action of some kind, right? This is just a courtesy extended to mobile users since buttons are easier to click on than a tiny text link. And put some cushion around those buttons so people won't make mistakes when trying to use them.
What about your website?
Now that your emails are mobile-ready – are you sending them to a non-mobile-ready website? If so, you started off pretty good but your website must be of a responsive design.
And I know you know what that means.
And of course WordPress has a cool solution for a responsive design. This is really one of the best solutions because a purely dedicated mobile can be costly. Not to mention finding a reliable, good mobile site coder/designer, etc.
What a headache.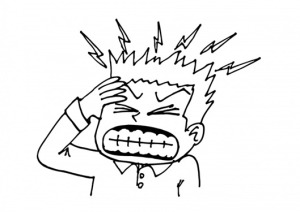 And just like a responsive email template,  a responsive WordPress theme means your site will automatically size to look great on any screen. But one word of caution, here…
The same principles of mobile optimization apply to your website as they do for emails. So that means taking images, file sizes and copy formatting into consideration. But all that's really not so hard to do.
If you currently do not have a responsive theme, then shop around and being sure you look for themes labeled as "responsive." There are enough places offering responsive WordPress themes.
Test everything before going live.
It's just smart and a good idea to test your site on different devices. This really should be obvious, but I'll mention it anyway. Testing to make sure everything looks good is about your potential customers and ultimately your business.
Your customers, starting with your mobile emails and your mobile-ready website, must have a positive experience.
Your testing platforms include devices and operating systems. With the latter, there's Android, Windows, and iOS. If you think this is overkill, then just think about a font, for example, that looks fine on a desktop PC but renders too small or unreadable on a mobile phone. Things like this happen and they'll kill your conversions.
In addition to testing, you'll be smart to employ tracking so you can measure your efforts. Google Analytics make this possible, and I'm sure there are other solutions out there, as well.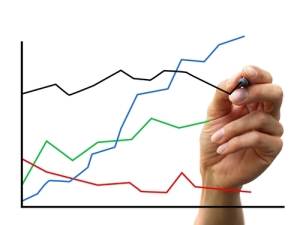 With tracking, you can see how many people come to your site from a mobile platform. Since you no doubt will have mobile traffic, measure and analyze how long they stay on your site compared to non-mobile visitors.
Why is this important?
Well, tracking and comparing the two may tell you that mobile visitors are spending less time. If that's the case, because your site may not be sufficiently optimized for mobile, then you can take appropriate steps to fix it.
You have to put all this into action to find out how your overall conversion funnel performs.
Conclusion
You've learned the basics about optimizing emails for mobile with a few words about making your website mobile friendly. This is a pretty broad area, and you can find tons of information online about mobile optimization for email.
There's really way too much involved with online marketing and optimizing for conversions, etc, to not test and track. If you're seriously in this to have a business and make money, then you have to do what needs to be done.
Contact me with questions about optimization, email marketing, product creation – or expanding product lines and transitioning from affiliate marketing to marketing your own products. The field is wide open for those who are ready to take action.
Tags: mobile email optimization, optimize emails for mobile, responsive email