I want to give you a MASSIVE TIP.
How important is it?
It means the difference between a first launch selling 50 units or 1000+ units. (Plus all the killer fringe benefits.)
The Cornerstone of Product Launch Success
I know one of the biggest struggles of most new launch marketers is they do not have many contacts or partnerships (friends) yet in this business.  As a product creator and launch marketer, it's critical that you get as many affiliates as possible to promote your launch.
Our whole business model depends on you getting OTHER people (affiliates) to promote your product.
This is an easy way to get traffic because you don't have to spend your time, effort and money on finding customers. Instead, you simply spend these efforts on finding affiliates who will promote your product FOR you.
If you do it right, well… click on the image below to zoom and you'll see what's possible.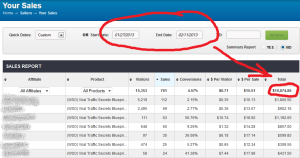 Now let's break this bad-boy down and talk serious numbers and (realistic) profit potential…
If you get just one big or mid-level affiliate to promote for you, they can easily send you 100+ visitors to your sales page. It's much easier to find one person like this than it is getting 100+ visitors to your sales page.
Now do some simple math:
Imagine finding 10 people like this who can each send 100+ clicks to your page.
Then you have 1000+ guaranteed referred visitors for your launch.
If your sales page and sales funnel convert well ($2+ Earnings Per Click), you can easily make $2,000+ simply by finding those 10 people.
O.N.L.Y. 10 people.
Do you see how powerful this is?
How Easy Can You Do This?
Here's another scenario.
Imagine you find 100+ people to promote your product. Now, imagine you get some BIG affiliates on-board who can send 1000+ clicks. Imagine, you have a killer sales funnel that earns you $4+ EPCs.2
The money from a launch gets much bigger, much quicker, if you can do this. This is how all the top marketers are able to do launches that easily do $100,000+ in sales.
FULL STOP… let's think realistic here…
Your Huge, Frustrating, Motivation-Dream Killing Dilemma
As a brand new marketer who hasn't launched any products before, who hasn't got a name or brand yet, it will be hard for you to persuade tons of big marketers with huge lists to promote for you. Why would they?
They don't know you.
They don't know if your product will convert well for them and make them a lot of money in commissions.
What can you do for them? 
You don't even have a big list so you can reciprocate and promote for them.
Yikes! Not looking too good.
The Inner Circle is Hard to Crack Into (99% of marketers have no chance) – Here's Why
Most top marketers, with their big lists, tend to promote only for their "friends" because this is how they build relationships. They promote for their friend and send them a ton of sales.
And in turn their friend will promote for them when they launch a product. This way, they have whole networks of friends who promote for each others' launches.
This is why partnerships are so hugely important in this business. The more partners (friends) you have in this business, the better and more profitable it becomes.
You need to network with like-minded marketers and build relationships with them. That is the most important thing that will have an impact on your business.
Free Training Alert: Follow the training in this coaching on how to do this, one partner at a time.
How to Create Your Own Network for Profitable Product Launches
If you can get only 10 people to promote your first launch…
And make sure you over-deliver with value in your product…
And your product makes a lot of commissions for these people…
They will promote for you again for your future launches.
After each launch, you will get more people on-board your launches and your network of partners grows.
This is how you make a name for yourself, and…
It will quickly become a lot easier to find affiliates for future launches.
The Immense Fruits of Your Hard Work
In fact – eventually, people will come knocking on your door because they want to promote for you.
They know that you are a person who delivers value and money for them. (And obviously, if you are a nice person they like connecting with, it's a huge bonus for you.)
The Single Biggest Problem that Kills Most Newbies and Why
The above is how most people start out.
But it takes time to build partnerships with a huge circle of people who will be on-board your launches every time. So many newbie marketers simply don't have the patience, drive, motivation – and knowledge – to do this.
The Solution – Life Doesn't Have to Be A Head-Banger, Here's 1 Powerful Shortcut
To get your foot in the door faster…
Get a launch partner or JV manager for your launch. Here's how…
If you can persuade a well known, well connected, launch marketer to launch the product with you as a 50/50 partnership, then you'll leverage on their contacts and relationships.
Then this partner will be invested in your launch, because your success is their success.
They will be able to do all the affiliate recruitment for you. And for these top marketers it's as easy as contacting all their previous affiliates and launch "friends" and telling them: "I am launching a new product next month called XXXX, are you in?".
For most established marketers it's really that easy to get all their big marketer friends to promote for them. This way you are GUARANTEED to get a lot of BIG affiliates sending you tons of traffic and guaranteeing the success of your launch.
How To Make a Killing by Giving Away 50% of Your Profits
I want you to understand the BIG benefit of getting a well-known launch partner on-board your launch. Even if you give half your profits away, you will make tons more profit.
EXAMPLE: If you give 50% of $50,000 away, you still make $25,000 in profit. (This is realistic if you have a big launch partner) But on the other hand…
If you do this alone, and you haven't spent a lot of time building partnerships with bigger marketers, your first launch could maybe only do a few thousand dollars. Maybe even less, it all depends on your efforts.
2 Critical Requirements: Fail to Deliver on Either 1 and Your Launch is DOA
But of course it takes time and effort finding the right person who will partner with you. Big marketers get these offers all the time, so it's important that your product is a good fit for them and that it's of great quality.
If your product is 100% finished, and it's in the same sub-niche as the potential partner, then you will have a good shot approaching them.
Approaching Big-Gun Marketers – A Step-by-Step Strategy That Works
First connect with them…
Talk with them a bit…
Build some type of relationship and then ask them…
"I have a great quality product related to the niche of your other products. It's called XXX and it's about XXX. I think it's really something different. It's USP is XXXX. This is something that would be a big success in one launch because XXXX.
But I realize that I'm still new and don't have a lot of JV partners yet. However, I know you have a lot of connections, and with your help we can really blow this up. The product is something that's very in-demand and it will convert very well.
I just need someone, who has better connections than me, to get more affiliates recruited to this launch.  It's going to be really easy profit for you because all the hard work is already done.
The product is finished, the sales pages are finished and the JV page is completed. I only need you to contact all your connections and get them on-board our launch. It's easy 50% profits for you."
If you contact the right people, and make a good enough impression with the quality of your product, your professionalism, etc, then it would be pretty easy for you to get a big marketer on board.
How Will You Find The Right Person?
Look at the launch sites, MunchEye.com/warriorjv.com/fb Launch Groups/ Skype launch groups/ JVZOO Top Sellers etc, and see who launches a lot of big products, who are successful, and very importantly, somebody who is launching the same type of products as you.
If you launch Facebook marketing related products, try to find somebody who also launched these types of products before. Of course, you can also try other people as well.
TIP: If in doubt about whether a person is right for you, ask your coach. I know most of the big JVZOO-type launch marketers and can tell you if they are well connected or not.
(I am a launch marketer coach. If you want to learn more about my coaching and strategy, watch this FREE WEBINAR REPLAY).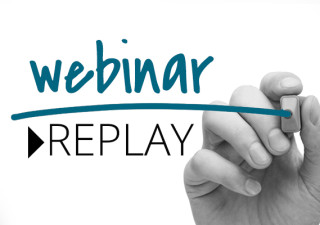 Fringe Benefits That Will Set You Free
The money is only ONE reason why you need to find a launch partner.
The fabled fringe benefits…
1. You will add a lot more people to your buyer's list. Even if you make very little profit, and still make 1000+ sales, you still get 1000 new buyer leads on your email list that you can promote to for months to come and generate steady commissions. With email marketing, you can promote your own future products and/or (affiliate) products.
2. You'll get a foot in the door with other big affiliates. You can ask your partner to connect you with all the people that they got to mail out for your launch.
3. If these people mail for your launch, and know you're the product creator, you get associated with your partner. Then it's much easier to connect with these big marketers and build your own relationships with them.
4. (Freedom) And then next time you won't even need a launch partner because you already know all the big affiliates yourself.
How Will You Spend The World's Most Precious Commodity?
So the all-critical question for you, as a product creator and launch marketer, is this…
How will you spend your time?
1. Finding customers for your product. (Traffic generation)
2. Finding affiliates to generate the traffic for you. (Affiliate recruitment/ JV partnership and relationship building)
3. Finding a launch partner who will do the affiliate recruitment for you.
It's your choice how you want do to this.
But my opinion is pretty clear. It's the easiest way to get on the launch scene quickly and into making serious money. Get a partner to get you there!
How to Get an Unfair Advantage
If you're looking for…
1. Step-by-step training based on real-world experience
2. Personal, friendly 1-on-1 coaching
3. A proven action-oriented coaching program, and…
4. A program that guarantees your success, then…
I clearly explain how to become a six-figure launch marketer in just 12 weeks. I'll also tell you about my coaching program and all you'll get from me if I coach you.
Contact me today – right now – with your questions, concerns or ideas and I'll give you a 100% free, no-hassle, no obligation consultation.
My Skype ID: bertuseng
PS- Maybe you're sitting there thinking the one thought most new marketers think, "Does this really work?". It's OK if you're thinking that. I suppose it's normal for most people. But hear me out on this…
Creating your own products, or promoting other peoples' products, and using the launch marketing skills and knowledge-set I teach you is so proven, and has been for many years… I don't know. It's sort of like yesterday's news to those who know about it, and do it.
This is a six figure business model. I've done this, and still do it; and just about every day of the year it's being done.
And hey… no SEO, no "article marketing," no PPC advertising, no media buying – and you'll be 100% immune to schizophrenic Google algorithm shakes, rattles and rolls.